The Ultimate Agency Formula – 12 Months to MORE Freedom and Profit From Your Agency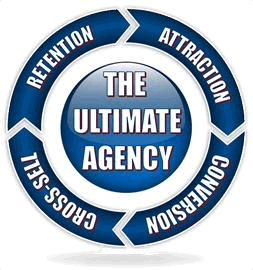 To our knowledge, there has never been a step by step guide to creating and managing a super successful insurance agency. The contributors of the Ultimate Agency Formula have masterminded to helped each other grow.
Tons of powerful ideas have been exchanged by this group yet never compiled into a single, ever expanding, resource for all to benefit from. Many incredibly valuable tips, strategies and techniques have been lost and never implemented by all that have shared. The Ultimate Agency Formula was created for the creators and contributors of this program. Now, you have this resource that can help you propel your agency to higher profits than most agencies ever see in a lifetime.
You now have at your fingertips strategies that have been tested and proven in real world insurance agencies. Everything you are about to learn is happening right now in agencies across the US and Canada. These agencies are profit producing machines that give more freedom to the owners of these agencies.
You are also going to learn from agents using the techniques described in this program, how
they use them in their own agencies. Again, REAL WORLD proof of what works and how you can benefit.
If you are ready to spend the next 12 months transforming your agency into the business you've always dreamed of, then we have one question for you…
Are You Ready For Change?
This 12 month program is about "Change". Changing nearly every aspect of your agency… your mindset, your daily activities, your team's attitude and maybe even some of your team members. These changes won't happen overnight thus, the 12 months to complete this transformation.
Making a change can be difficult, especially drastic changes. We tend to get set in our ways. Our daily patterns become routines and without consistent reminders of the what and why, we can quickly revert to our old, less productive ways of doing things. Well, we've got that covered for you. In each monthly module, you get the what, why and how, along with an accountability checklist with reminders to help you stay on course.
Ultimate Agency Formula Curriculum
Module One– How to Free Up Your Time to Focus on What is Most Important and Profitable
Module Two– How to Build and Motivate the Ultimate Team
Module Three– List Building for Automatic Sales
Module Four– Welcome to the 21st Century Caveman
Module Five– How to Retain for the Highest Long Term Profit
Module Six– How to Build Credibility to Earn Their Trust
Module Seven– The Second Greatest Source of New Business… Referrals!\
Module Eight– Use Personality Marketing to Stand Out and Get Noticed
Module Nine– Attract More Higher Quality Prospects
Module Ten– Convert Prospects Quickly and Easily for Maximum ROI
Module Eleven– Cross Sell For Increased Profits From Every Customer
Module Twelve– Advanced Marketing Strategies
Of course, the contributors of this program know that we, as business owners need help to make positive changes happen in the shortest time. Look, we can't do everything ourselves. We must depend on specialists to help make things happen in every area of our agencies. Delegation is going to be a major key to your success. Fortunately, we've found experts that help you in many different areas.
What is the "Ultimate" Insurance Agency?
First of all, there really is no "Ultimate" insurance agency. Even the authors and contributors in this program do not own the "Ultimate" agency. However, they are getting closer every day. Their agencies may give them all of the rewards they want… Freedom, Money, Personal Satisfaction, Time with Family or Doing the Things They Enjoy Most, Ability to Give Back and Much More.
If their agencies were looked at carefully under a microscope, areas of improvement can be discovered. Nothing is perfect. There is always room for improvement. The agents who strive to build the Ultimate Insurance Agency, uncover these areas of improvement and work diligently to get them closer to their goals.
The Ultimate Agency Formula was created for this reason… an outline of all areas that make insurance agencies super successful. Even the creators and contributors of this program are using it to take their agencies to higher levels.
Your definition of the Ultimate Insurance Agency may be different than others. Maybe you just want a small agency that runs itself efficiently, effectively and highly profitably giving you the lifestyle you desire.
Or maybe you want your agency to grow to the highest of levels, employing a large team and dominating your marketplace in several niches. The choice is yours. All you have to is follow and implement the Ultimate Agency Formula. You'll also have the opportunity to take advantage of the same products and services the contributors with Ultimate Agency Formula have to used to get you to the same highly profitable levels.