Discover The Tested and Proven Tools
and Strategies That Can Give You
More Freedom and Profit From Your
Insurance Agency!
Created By Insurance Agency Owners For Insurance Agency Owners
About Ultimate Agency Network
The Ultimate Agency Network (UAN) was formed in 2007 by agency owner Tom Wiecek, and former software executive, Sylvia Stone to provide web based niche marketing systems to insurance agencies across the United States and Canada. From inception, UAN provided a forum where agency owners, in a non-competitive environment, could share their marketing successes, failures and challenges, and brainstorm about ways to improve their agency's performance.
In 2009, Russ Lowry introduced the ultimate automated insurance marketing system after proving to greatly increase his insurance agency's conversion of leads. Russ joined the team and became a partner after helping Tom implement the system in his agency which gave him even more freedom and profit from his agency.
LIMITED TIME OFFER
FREE Bronze Level Membership to the Ultimate Agency Network!
Join today to get access to the UAN Facebook Forum and Monthly Ultimate Agency Formula Webinars, Our 12 Month Training Program Created By Top Producing Agency Owners Providing the Strategies Needed to Grow Your Agency Faster in the Next 12 Months Than Ever Before.
The Ultimate Agency Formula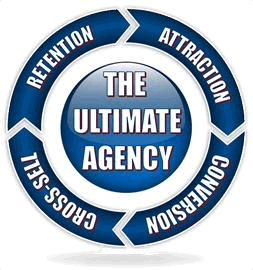 Grow Your Agency Faster in the Next 12 Months than Ever Before
The Ultimate Agency Formula – 12 Months to MORE Freedom and Profit From Your Agency To our knowledge, there has never been a step by step guide to creating and managing a super successful insurance agency. The contributors of the Ultimate Agency Formula have masterminded to helped each other grow. Tons of powerful ideas have been exchanged by … [Read More…]
Meet The Contributors of the Ultimate Agency Formula
Michael McLean, Insurance Renegade Marketing
Owner of McLean Insurance
Tom Wiecek, Co-Founder of the Ultimate Agency Network
Owner of Paramount Insurance Agency
Mike Stromsoe, The Unstoppable Profit Producer Coach
Owner of Stromsoe Insurance Agency
Russ Lowry, CMO of the Ultimate Agency Network and Creator of Agency Command
Owner of Oklahoma Insurance Group

The Ultimate Automated Insurance Marketing System
Attract, Convert, Retain and Cross Sell More High Quality Clients to Your Agency! When you join the Agency Command Team you get a system designed by agents for agents. My partner, Tom Wiecek, and I are both agents in the trenches just like you. Tom is an agency owner in North Carolina and I'm an agency owner in Oklahoma. Agency Command grew out … [Read More…]

Premium, Custom Built Websites That Deliver Results!
Is your website delivering high quality leads eager to buy from you? Do you have a template website that looks like every other insurance agency website on the internet? Does your website represent the people and personality of your agency? If your website is not producing results, You Need the Ultimate Insurance Website That Gets Traffic and Compels Visitors to Take Action! [Learn More…]